Hello fellow travelers!
How are you doing on this rainy day?
Complacency  is one of the Dirty Dozen that we're going to talk about today, it can be described as a feeling of self-satisfaction accompanied by a loss of awareness (when you don't know about it) of potential dangers.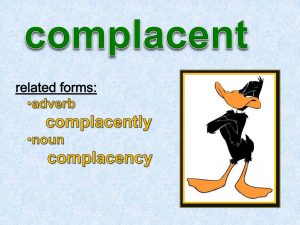 Their arrogance and complacency is breathtaking (spectacular).
This dangerous complacency can't go on (continue).
I despise (dislike) snobbery (arrogance), smugness (self-satisfied) and complacency.
There's no game where he allows (authorizes) complacency, and that obviously helps.
Homework: On the New York Times' website there are some cool games, try to play one of them.